Low Adhesion Issues Slip Away with New Sanders
The low adhesion conditions could just slip away with a new sander design. Low adhesion causes an average of 350,000 delay minutes each year and can result in station overruns and signals passed at danger. But the Double Variable Rate Sander could make this a thing of the past. This challenge goes beyond autumn and it is a fact that low adhesion affects the railway all year around, making braking distances unpredictable. This not only negatively affects today's railway operations but also industry's aspiration of running more trains per hours.
Sanders are routinely used on trains to reduce the impact of slippery rail head conditions by blasting sand between the wheel and the rail. RSSB undertook research to find out how the rail industry can optimise the use of sanders. A three-month programme of full scale testing at the Rail Innovation and Development Centre at Melton Mowbray, using two new Class 387 trains loaned by Great Western Railway, generated a robust dataset from over 220 test runs covering various configurations of sanders, test speed and train formation.
This research has proven that changing the approach to sanding by introducing double variable rate sanders, which automatically apply more sand when braking at higher speeds, dramatically reduces braking distances and provides assured 6%g braking performance, which is the basis for timetable planning. In particular, double variable rate sanders can improve stopping distances on a 4-car train by around 50% compared to a single fixed-rate sander.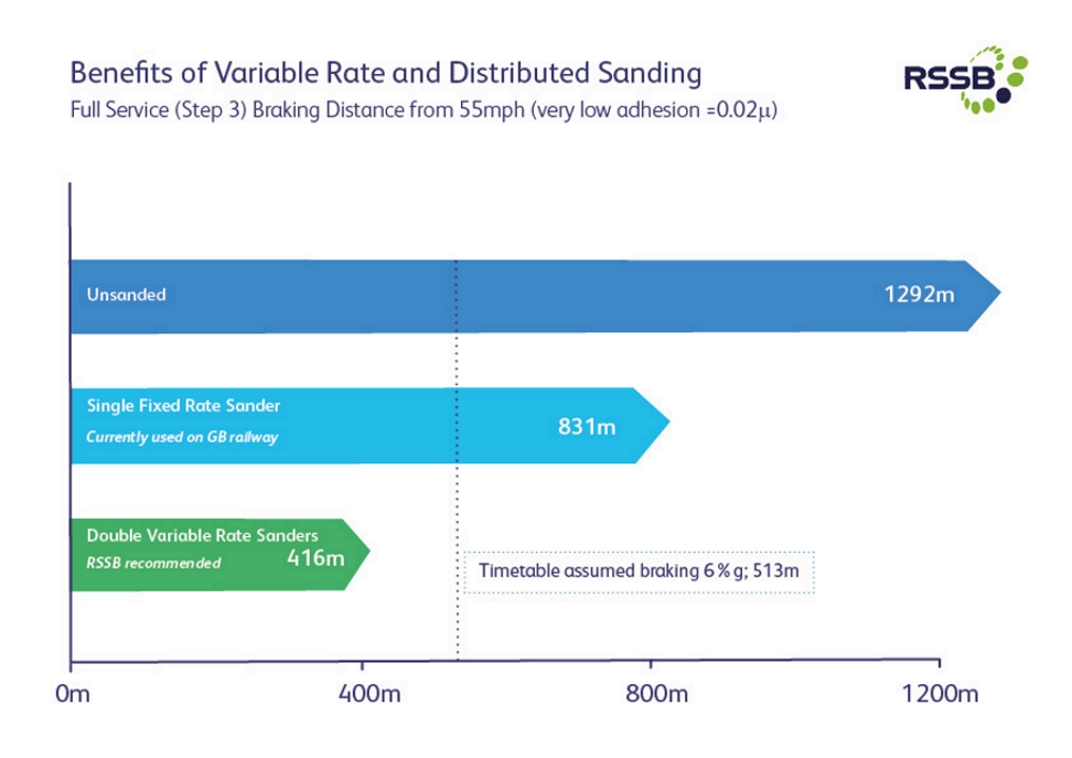 These are game changing findings because they demonstrate how existing technology can be deployed more effectively to overcome the 'leaves on the line' problem and year-round delays caused by poor adhesion. Moving to double variable sanders will reduce delays, platform overruns and signals passed at danger due to low adhesion conditions. Also, by improving the consistency and predictability of train braking, this will be a key enabler to delivering increased capacity.
Two dedicated briefing events (6 February in London and 7 February in Birmingham) brought industry together discuss the findings and explore opportunities and barriers to adopt the new recommended sanding configuration from Autumn 2018.
T1107 - Sander trails dissemination event recordings of proceedings
What was the challenge? - By Paul Gray
What did we do? - By Steve Mills and Liam Purcell
What did we find? - By Andrew Lightoller
What does it mean? - By Liam Purcell