PERFORM Research Programme—Launch Conference
Collaboration is key to delivering incremental changes to performance management.
In April 2019 RSSB formally launched the Enabling Better Performance Research Challenge (PERFORM). At the 'Enabling Better Performance' conference, RSSB unveiled the PERFORM research programme to 150 delegates from across the industry, from academia, and the supply chain community.
PERFORM is a cross-industry initiative, led by RSSB, which supports research and development to achieve performance improvements—to run more trains on time today, while improving the rail performance of tomorrow. PERFORM has five workstreams:
Rail operations and variability
Operational rules and standards
Understanding performance trends and incentives
Managing disruption
Value from data
The agenda included an engaging mix of presentations and debates which covered challenges, solutions, enablers and future opportunities for research. An interactive exhibition area facilitated networking opportunities and demonstrations of current innovations.

The 'Challenges' session set the scene around the current industry context and opportunities for change, with Tim Shoveller, Managing Director for Stagecoach Rail Division and Chair of the Better Operations Programme Board (pictured, right). In his keynote address, Tim referred to performance as one of the unprecedented challenges that the industry is currently facing and encouraged everyone to act soon and work together. The PERFORM programme was also endorsed (remotely) by Oliver Bratton, (then) European Operations Director, MTR Corporation Ltd (top right) and Graham Richards, Director of Planning and Performance, ORR (bottom right).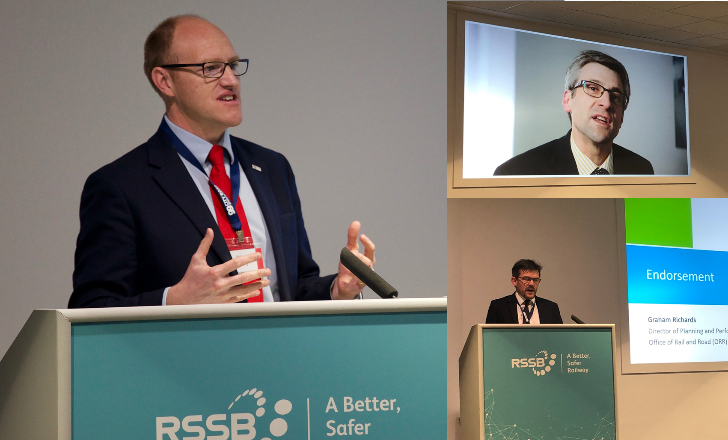 The 'Solutions' session presented a mix of feasibility and tactical research carried out under the PERFORM umbrella. The outputs of the five 'Data Sandbox' projects were co-presented by the industry partner organisations and the project teams delivering the work:
Predicting and mitigating small fluctuations in station dwell times (Led by the University of Southampton in collaboration with South Western Railway)
Anticipating and mitigating reactionary delays (Led by Liverpool John Moores University, in collaboration with Merseyrail)
Providing data analysis insights into real to-the-second timing patterns of passenger rail services using Machine Learning techniques (Led by Middlesex University, in collaboration with Southeastern)
A feasibility study on developing an intelligence ensemble system for predicting and preventing train delays (Led by University of East Anglia in collaboration with Greater Anglia)
Agent based modelling and visualisation of the causes and consequences of knock-on delays (led by Risk Solutions and City University of London, in collaboration with Great Western Railway).
Other projects that were also presented include:
Implementation trial of Automatic Driver Competency Indicators (LNER and Cogitare)
Enabling better planning and resource management during disruption (Govia Thameslink Railway and Steer Group)
Development of an operational decision-making model for abnormal working (RSSB)
RABYT - Red Aspect Approaches by Train Journey (RSSB and University of Huddersfield)
A range of industry performance enablers were then presented, providing vision and direction to industry on data, traffic management and crew and stock systems.

Finally, future opportunities and next steps supported a conducive debate on how industry can work more collaboratively to improve performance. The debate was chaired by Sir Michael Holden with panel representatives from train operators, Network Rail and Transport Focus.

In closing the debate, Holden commented that a reliable railway needs three critical building blocks: (1) a good base timetable, (2) incident prevention and reduction and (3) effective incident recovery. However, the industry also needs three 'soft' requirements: (1) inspired leadership, (2) effective organisation and (3) competent and experienced staff.

The launch of a new R&D collaborative competition, Data Sandbox+, brought the day to a close. RSSB has made available £650,000 for feasibility studies and demonstrator projects to deliver innovative data-driven solutions to the following key operational performance challenges:
Predicting and minimising reactionary delays
Understanding train movements
Reducing dwell time variations
Management of disruptions
Better measuring and understanding performance and delays
Other challenges, as identified by relevant owners (Network Rail; Passenger / Freight Operators).
Network Rail has additional funding available within the CP6 R&D portfolio to also support suitable projects up to £650,000 through the Data Sandbox+ competition.

Overall feedback from the event was extremely positive, reflecting the industry appetite and need to continue delivering research through the PERFORM programme.