Our Research on Mental Health Training for Line Managers
RSSB research reveals best approach for training managers in mental health.
Stress and mental health are the leading cause of long-term absences in the rail industry (ORR, 2018). An estimated 1.34m days are lost to sickness in the industry due to ill health (RSSB, 2019). Effective strategies could reduce this by as much as 30 per cent, including awareness training and effective rehabilitation – saving employers up to £8 billion per year (Centre for Mental Health, 2007). RSSB's report on the impact of suicides on railway staff (RSSB 2005) and guidance for responding to potentially traumatic incidents (RSSB, 2019), highlights how the unique working environment carries unique psychosocial hazards.
The Government commissioned review of mental health and employers, Thriving at Work (Stevenson & Farmer, 2017), identified effective people management as a core standard for employers. Providing the right training for line managers is vital in helping them understand, manage and promote mental health and wellbeing at work. It equips them with more confidence in managing absence from work resulting from poor mental health and in managing risks associated with stress at work. This not only benefits their direct line reports but has positive implications for company productivity through potential reductions in absence due to mental health, decreased staff turnover and less 'presenteeism'.
The project, 'Understanding the conditions for successful mental health training for managers' (reference T1124) and a long-term follow-up study were commissioned on behalf of the cross-industry Health and Wellbeing Economics Group. The research shines more light on an area of employee health that lacked scientific research historically.
What are the best mental health and wellbeing topics to teach to line managers?
There are five topics which should be included in mental health training for line managers.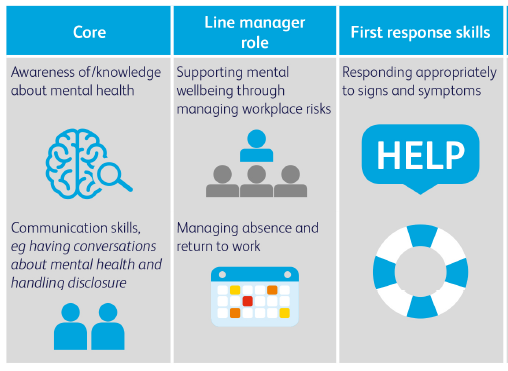 The T1124 literature review provides further information on features of training courses that have been highlighted as successful, including:
Providing opportunities for interaction with other learners
Using real-life experiences to illustrate points, for example; personal accounts of real employees who have struggled with their mental health (eg on video)
Case studies showing how particular situations were managed at work
Tailoring content as far as possible to the participants sector/job roles
What are the best methods available for training line managers in mental health and wellbeing?
The study found no differences in the outcomes of face-to-face and e-learning training. Both benefited participants.
The findings that face-to-face training and e-learning methods are equal in effectiveness, allows rail companies to choose the method of delivery that suits their organisation without the risk of compromising effectiveness.
What were the benefits to those who attended training?
The first of its kind to examine the effects on line managers specifically, the study compared the two different formats against a control group. The impact on participants was evaluated directly after the training and 6 weeks later.
The results showed that both face-to-face and e-learning interventions led to sustained changes in the line managers' knowledge about mental health and in their preparedness to take action on mental health issues.
To further embed the mental health learnings and communication skills, a systemic wraparound is required. Neither face to face nor e-learning training are sufficient in isolation over the long-term.
What is the most appropriate way to maintain ongoing training activity within rail (e.g training enough staff, re-training, knowledge retention)?
The study findings make a strong case for rolling out the training more widely to line managers in all parts of the rail industry. To enable learning to be embedded, the long-term follow-up study identified the following components for a wraparound:
Access to appropriate support and specialist advice from HR and Occupational Health is critical. Line managers should not feel isolated when management challenges arise.
There should be a centralised point for resources (including relevant company policies) that LMs can refer to.
The preferred method of training differs according to individual needs, including learning and logistical needs. However, having training materials that can be referenced after the training is important regardless of mode of delivery.
More training is not the only way to embed training. Different methods of enabling peer learning should be explored such as facilitated workshops or webinars.
Learning outcomes for training needs to be linked to behaviours delegates can practice straight after the training, specifically for preventative skills, as opposed to only when people are unwell.
Training methods that allow role play could be useful in embedding behaviours that are needed less frequently, such as disclosures of poor mental health or absence situations that require careful management.
'Small talk' should be seen as a valued part of the LM role by senior leadership. Small exchanges and interpersonal relationships provide a setting that facilitates supportive management and employee openness.
An important determinant for success is a company's openness to making adjustments for individuals experiencing mental ill-health, and the support that is afforded to line managers to enact such adjustments. Companies should empower line managers to make appropriate adjustments.
Organisations should use organisational tools to put knowledge into practice as well as embedding organisational processes for assessing and managing psychosocial risks. Tools such as Mind's Wellness Action Plan could be embedded into standard company resources.
RSSB have developed rail specific face to face training that has been informed by this research. RSSB are also collaborating with Mind to offer two e-learning packages with rail specific content at a reduced cost to industry. For further information on either face to face or e-learning training, please contact training@rssb.co.uk.